Illustrations
The 1969 version of the architect's masterplan. The small building near the Sorbonnelaan (represented with diagonal striping) is the teaching facility for Dentistry. This building was taken down in the 1980s.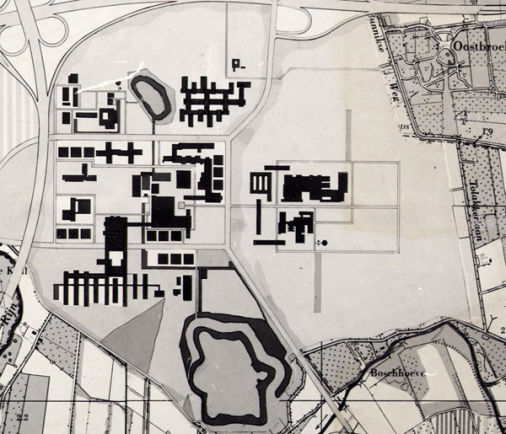 Photographic representation of the 1969 masterplan, superimposed on a regional map.
Compared to the 1968 scale model, more cross-shaped buildings are added. The one closest to the dotted city border between Utrecht and Zeist is later developed to become the 'Androclus-building' for veterinary science.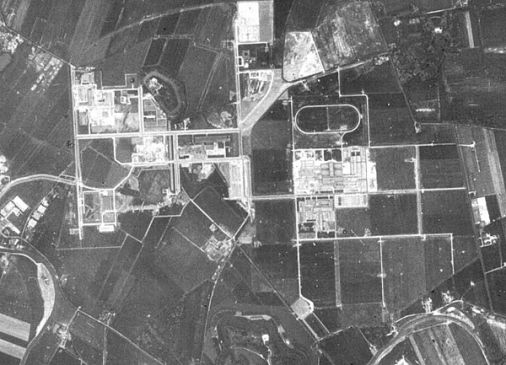 The aerial picture shows 'De Uithof' in 1970. A decade of university planning left an irrevocable imprint on the area. Although developments seemed to have halted, a comparison with the aerial picture of 10 years before shows that major achievements had been reached. This picture was used for the cover of a special of the architectural magazine 'Plan 10' which was dedicated entirely to 10 years of Uithofplanning. © Ministery of Defence.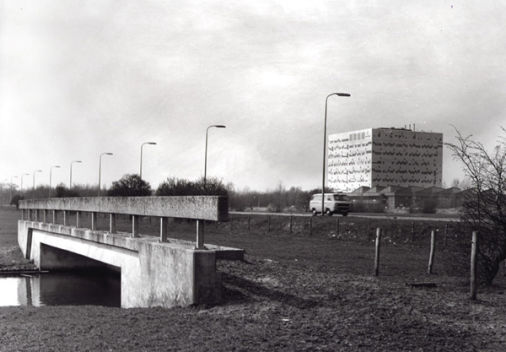 The masterplan of 1969 cast its shadows ahead. A huge university campus was perceived including wide, partly three lane roads. Preparations for the construction of those roads were made, but proved to be unrealistic. The picture above is taken in the early 1970s and shows the 'Toulouselaan'. The dimension of this culvert bridge allows for doubling the road. In fact, in the early 1990s (1993), the decision was reached not to double, but to reduce the road to a bicycle lane. It would take another 15 years before factual changes would take place: an idyllic bicycle route with a recreational spot on the culvert bridge for a picknick and a view on the adjacent historic scenery.
The building with the saw toothed roof is the former teaching center for the Faculty of Dentistry. Both the building and the faculty have disappeared from Utrecht.